A short guide to the National Gallery, for those who don't have much time.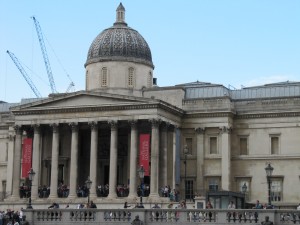 The National Gallery has one of the most important collections of painting of the whole world, and if you are in London it should be in your list of places to visit. I don't like to spend  too much time in galleries and museums, even when they are full of interesting artifacts, but one of the advantages of London is that most of them are free, and you can get in as many times as you want. In this way you can enjoy much better the paintings, instead of taking all in in just one go. Another problem that I find when I visit a museum I have never seen before is that I get easily lost and I end up missing some of the interesting things. Wouldn't it be better to have someone to point you to the right direction? This is why I've decided to make this short guide, which gives you a list of the 10 best paintings that you cannot absolutely miss if you visit the National Gallery. They are not in order of importance, but they follow an itinerary that takes you around the rooms of the National Gallery. Obviously some personal tastes are also reflected in the list, although I've done my best to be quite impartial.
If you have a favourite period you can visit just the dedicated rooms: the National Gallery divides the paintings according to their period in 4 groups of rooms: paintings from 1250 to 1500 (blue area in the Sainsbury Wing), from 1500 to 1600 (purple area), from 1600 to 1700 (yellow area) and from 1700 to the beginning of 1900 (green area). This last group of rooms is my favourite, because it includes the impressionists. Here you can admire famous masterpieces by Monet, Van Gogh, Cézannes, and also very interesting paintings of the previous period, including Canaletto, Turner and Constable.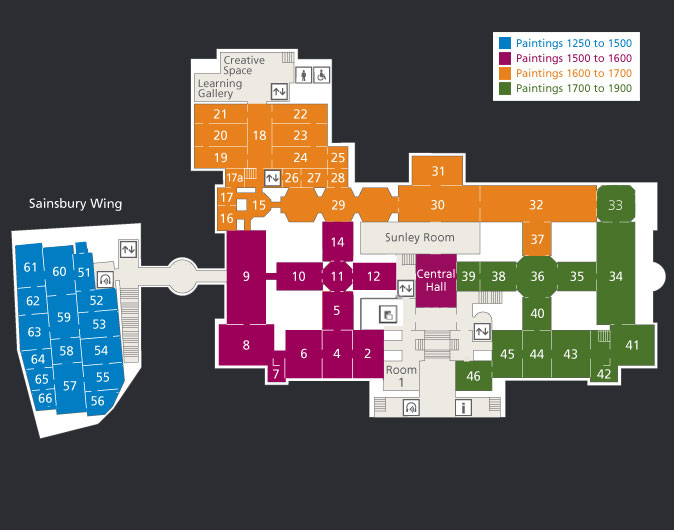 In the rooms dedicated to the painters of the XVII century you can find works by Rubens, Rembrandt and Caravaggio; in the XVI century you will find Tiziano and Michelangelo and in the rooms containing older paintings you will discover wonderful works by Leonardo, Botticelli, Mantegna and many more.
If you don't have much time, you can follow an easy itinerary that I have made for you and that will show you some of the most famous paintings of the National Gallery.
Let's start our tour!
Green area: 1700 to 1900
Van Gogh – Sunflowers(1888)
Seurat – Bathers at Asnières (1884)
Monet – Bathers at La Grenouillère (1869)
Turner – The Fighting Temeraire (1839)
Yellow Area: 1600 to 1700
Caravaggio – The supper at Emmaus (1601)
Rubens – Samson and Delilah (1610 ca.)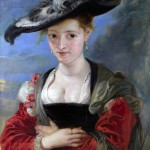 From the room 32 we go through the room 30 and then into the room 29: Here we turn right to reach the rooms 18 and 21, where we can find paintings by Rubens and Van Dyck.
NB: Samson and Delilah at present is on display in the room 18 and the lovely portrait of Susanna Lunden, also by Rubens, is in the room 21 .
Vermeer – A young woman standing at a virginal (1670)
We can now complete our tour to the room 9, the starting point of the purple area.
We have now two options: we can go to the right towards the Sainsbury Wing, where we can find paintings from the 1200 to the 1500 (Raffaello, Botticelli, Leonardo, Van Eyck) or we can carry on straight to the rooms number 8 (Michelangelo) and 2 (Tiziano), from where we will get back to the main hall, where our tour ends.
If you want, you can do both: first visit the Sainsbury Wing and then come back to the room 9 and complete you tour towards the main hall.
These are the paintings that I suggest you to look for: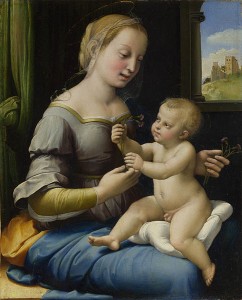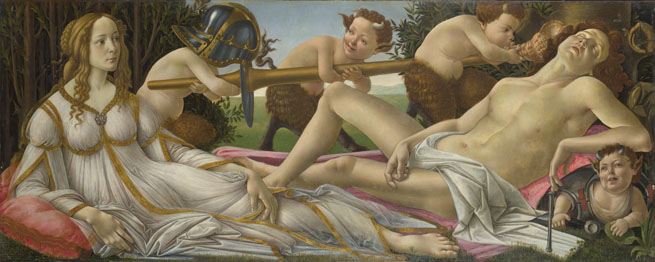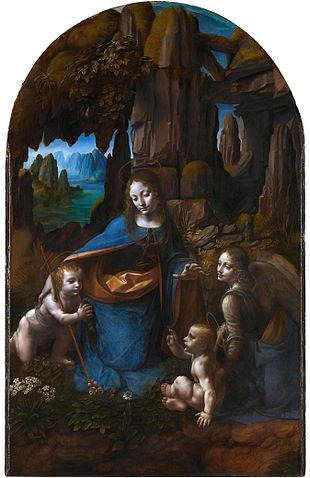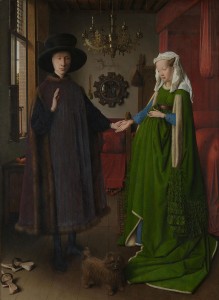 [/span3][/columns]
Purple Area: 1500 to 1600
In the room 6 we can admire Titian's Bacchus and Arianna and in the room 8  Michelangelo's Deposizione di Cristo nel sepolcro (the Entombment)
We have now completed our quick tour of the National Gallery. Going through the various rooms you will probably notice many other paintings which deserve more time, and many of you would have noticed that I have indicated more than 10 unmissable paintings…
If you want to add your favourite paintings you can do it here in the space for your comments. They would be useful suggestions for those who want to visit the National Gallery in a near future.