Starting from September the number of Covid-19 positive cases has been constantly growing in London, as we can see in the graphic below, published by the Greater London Authority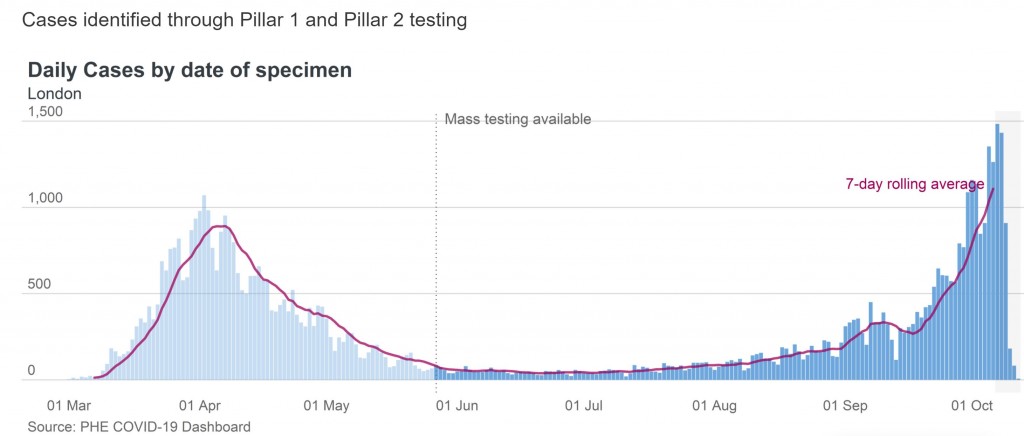 There is a growing number of positive cases among youngsters too. However, the number of patients requiring hospitalization is extremley low, when compared to the first wave in Spring.


Because of this second wave there are more restrictions in London, like the opening times of bars and restaurants, the number of people allowed in closed spaces, etc.
For many travellers there is also the inconvenience of having to quarantine for 14 days on arrival, and this makes travelling not advisable at present.
The list of countries that do not have to quarantine is constantly updated, and can be found on the government website (https://www.gov.uk/guidance/coronavirus-covid-19-countries-and-territories-exempt-from-advice-against-all-but-essential-international-travel).
The list below has been updated on the 15 October
Europe
Cyprus
Estonia
Faroe Islands and Greenland
Finland
Germany
Gibraltar
Greece (not including Mykonos)
Ireland
Latvia
Liechtenstein
Lithuania
Madeira and the Azores (not including mainland Portugal)
Norway
Sweden
Americas
Anguilla
Antigua & Barbuda
Barbados
Bermuda
British Virgin Islands
Canada
Cayman Islands
Cuba
Dominica
Falkland Islands
Grenada
Montserrat
South Georgia & the South Sandwich Islands
St Barthélemy
St Kitts and Nevis
St Lucia
St Pierre and Miquelon
St Vincent and The Grenadines
Asia-Pacific
Australia
British Indian Ocean Territory
Brunei
Cambodia
Cook Islands
Fiji
Hong Kong
Japan
Laos
Macao
Malaysia
New Caledonia
New Zealand
Samoa
Singapore
South Korea
Sri Lanka
Taiwan
Thailand
Vietnam
Wallis and Futuna
Africa
Mauritius
Seychelles
St Helena, Ascension and Tristan da Cunha