A practical guide to reach London from its three main airports.
If you have ever been to London you surely know how to reach central London from one of its airports, but if you haven't been here recently, you might be surpised to see how many options you have and how much prices can vary. This is my latest update of the post about how to reach London from the airport.
Unfortunately fares change very quickly, and the prices I will mention might not be always correct. However, this short guide will give you some indications about the best and cheapest way to reach London from 4 main airports.
How to get to London from Heathrow
If you are coming to London with an intercontinental flight or if you have chosen one of the major airlines, chances are that your destination airport would probably be Heathrow. I suggest you to forget the express train that connects Heathrow to London, because it's too expensive (more than £20) and it takes you to Paddington Station. Nothing wrong with Paddington (nor with the funny little cartoon character  with the same name), but then? If you are not staying in nearby Bayswater or in one of the hotels near the station, Paddington will not be your London destination and you will need to take another mean of transport.
Therefore,  from Heathrow the best choice is to take the underground (Piccadilly line),  which is more likely to drop you in more convenient locations:  Earls Court and Gloucester Road (both areas are quite central and full of cheap hotels), South Kensington (another lovely area to stay, although quite expensive), Piccadilly Circus and Leicester Square (if you want to start exploring London straight after your arrival), Holborn and Russel Square (two areas near Bloomsbury, an ideal location for a stay in London: near Russel Square you can also find the nice  Generator Hostel). So, invest some money (£5 actually, not that much) and get yourself an oyster card, load it with an extra £10 and for a couple of days you will have all tube and  – better still – bus rides covered (and read our post about how to use the London buses, just in case).
The cheap bus service run by Easybus is no longer available from Heathrow, but I will keep their website check and post any update.
How to get to London from Gatwick Airport.
By train. No other way would be more convenient. No need to take the direct and fast Gatwick Express (too expensive at £19). Any train to London Victoria would be just fine and not much slower (about 30 minutes ). You can spend as little as £11 if you buy your ticket online. Recently, a pay as you go system ha sbeen introduced, and you can now use the oyster card from gatwick, even if it is outside London's boundaries. Off-peak oyster fare is only £8 (Monday to Friday from 9.30am to 4 pm, and after 7pm; all day on saturday, sunday and public holiday). £14 if you are travelling at peak time. You can buy an Oyster card at Gatwick railway station.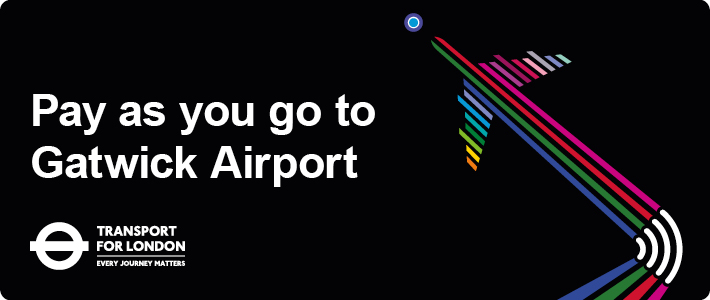 The cheapest solution would be with easybus, but you have to book your tickets far in advance, because they are so cheap that they sell out quite quickly. You can spend as little as £5, which is really cheap, but check the destination carefully: there are lines to West Brompton (and I doubt your destination would be there), Victoria Coach station (which means a long walk to get to the Victoria tube station), Vauxhall or Waterloo Station. the journey time can also be very different: slightly over one hour to Vauxhall, but nearly two to Victoria. Personally, I would travel to Vauxhall, where I can catch the tube (Victoria line) or one of the buses from the busy Vauxhall bus station. Easybus now sells also National Express bus tickets at discounted prices, so it is always worthwile checking both websites and compare prices before you make your purchase.
How to get to London from Stansted Airport.
Again, you can use either the train or the bus. The train is the quickest solution, but from Stansted is not very cheap: £19 single and £32 return. Your better option by train is to take a ticket to Tottenham Hale Station (slightly cheaper: £18 and £30), which can be reached in 35 minutes. Then from Tottenham Hale you can take the underground (Victoria line), which will take you to many central locations: King's Cross, Oxford Circus, Green Park, Victoria. In slightly more than an hour you will be at your hotel. Get an oyster card at the ticket office at Tottenham Hale, and for public transport you're already sorted for the rest of your stay.
If you want a cheaper solution, again easybus can provide low cost rides to London for as little as £5. You can reach many destinations too: Liverpool Street, Waterloo, Southwark,Baker Street: the choice is yours. I would only avoid a journey to Stratford, if you don't want to spend another long time on the tube, unless you chose to stay near the Olympic Park.
There are also coaches from Stansted to Victoria Coach Station or King's Cross by Terravision, CityLink (£9 single) and National Express. They are often cheaper than the train, but slower (roughly 2 hour journey to Victoria, and 1hr/1hr30′ to King's Cross). However, their coaches are very comfortable and it's a convenient solution if you arrive late at night, because after 11pm is difficult to find a train to central London. It is always worthwhile checking online if there are special offers. Easybus nowadays offers cheap transfers on National Express buses. Usually National Express offers transfers every 15 minutes, and if you miss the one you booked you can always take the next one without any additional costs.
At Stansted Coach Station make sure to choose the right queue: there are more than one line from Stansted to London and you have to check the number on your ticket (A7, A9 etc.).
How to get to London from London City Airport.
London City Airport is the only one which is actually inside London. It is located on a small island on the River Thames, very close to Canary Wharf, a famous financial district. Due to this convenient location it is the preferred choice for business trips. However, I have recently found a few offers even from main companies, which offer the benefit of a more comfortable flight and a better on board service. To reach central London from the airport, you can use the DLR – the Docklands Light Railway – which will take you to the Tower of London (Tower Gateway stop) or Bank. You can also take a train to Stratford and change at Canning Town, where you can hop on the underground (Jubilee Line). The Jubilee Line is a very convenient solution, because it crosses London from South-east to North-West, stopping at many important tube stations, like London Bridge, Waterloo, Westminster, Green Park, Baker Street, etc. Landing at the London City Airport is also quite an experience, because it offers amazing vies over the City, and your plane will fly very close to the Shard, the Tower of London and the Tower Bridge. Trust me: it would be an unforgettable sight!
Ready to go?
Now that the problem of how to get to London from the airport has been solved, you can start enjoying your stay in London!
Have you already sorted the hotel? You can read our guide, in case you haven't.
And if you have any question, please use the space for the comments.