How to eat in central London without spending a fortune.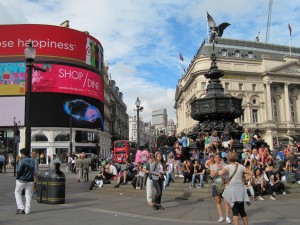 The original post was made over one year ago, so I thought it was time to update it with my latest discoveries.
The reason for writing this post was and still is the same: how can we find a good but affordable place to eat in Central London?
Every time a friend or a relative comes to London, the first question they ask is always "Where can I find a decent place to eat in central London, without spending an arm and a leg?" My house doesn't count as a suggestion, and it is not very central anyway. So what can I suggest? First of all, a Londoner would rarely eat in central London, unless he/she really has to. They would rather go to other  areas, like Clapham, Brixton or Shoreditch, where the choice is wider and prices more affordable. But a tourist will prefer to stay in central London, so it is essential to find something cheap and good in Soho or Covent Garden, or anywhere close to Piccadilly, Leicester Square or Trafalgar Square (Charing Cross) tube stations.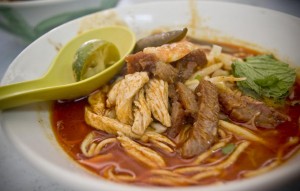 If you are looking for a place to eat in London, the first question you will hear is "What type of cusine would you like?" London indeed offers an amazing choice and a variety of food that is really global: not only the classic and well known French, Italian, Greek or Spanish cuisine, bur also Turkish, Lebanese, Egyptian, Thai, Peruvian, Brasilian, Portuguese and many more. Even the most famous oriental cuisines (Chinese and Indian) here in London are divided in different varieties and specific origins: Taiwan, Peking, Hong Kong, North India, South India, etc. We are really spoilt for choice.
I've decided to suggest you a few cheap restaurants based on 5 different types of cuisine:
Italian Restaurants
English Restaurants (yes, we have even English food in London)
Oriental Restaurants (Indian, Chinese, Japanese, Thai, etc.)
Mediterranean Restaurants (including Turkish, Lebanese, Greek, Egyptian, etc)
International Restaurants (all the rest)
I will give you two suggestions for each type of cuisine (and I will give you a few more alternatives, because I can never really keep within the limits of a classic "10-best" list), based on the reviews obtained on sites such as Tripadvisor, Zomato, various food blogs, etc.
Italian Restaurants.
Being Italian, I know how difficult it is to suggest an Italian restaurant to friends and relatives, or any other Italian on holiday, because:
an Italian restaurant is never quite like the food cooked by your mum/wife/grandma/etc.;
an Italian restaurant abroad is (almost) never quite like an Italian restaurant in Italy (this is usually true for any country, but don't tell an Italian);
a high quality Italian restaurant in London is really expensive, and is not quite like the small-restaurant-that-only-I-know-and-whose-owner-is-a-friend-of-a-friend. So, even if some places are absolutely marvellous (like Mr. Locatelli's, just to name one), they don't meet the criteria of our list.
Therefore, these are our (and everybody else's) favourites (if you click on the number near the restaurant's name you can see its position on a map):
Homeslice Pizza – Neil's Yard – Covent Garden (N.1 on the map)
The most voted (by Italians) for the quality of its pizzas, and therefore highly advisable, if we just  want to eat  pizza; also it is in a very nice little square, which deserves a visit even if you are not hungry; pizzas are huge and they can be shared between two or three people, and they cost £20 each; not bad at all for a good pizza in central London. Trust me!
Alternatives:
Da Mario (N.3), still in Covent Garden (63 Endell Street): here you need a higher budget – it's quite difficult to have a dinner for two for less than £40 – however, if you are looking for a good Italian restaurant in this area, this is a very good choice.
Carluccio's (N.2) Garrick Street – (Covent Garden): Carluccio's is a very good option for those looking for honest Italian food. Pasta is a speciality of the house, and you can find many under £10 (£12 if you want to try 3 different types of pasta).
English Restaurants.
It would be absurd to come to London without trying something typically British, and you might even be positively surprised. Anything you'd choose will fill you up (and that is quite an advantage if you feel ravenous after spending the whole day walking around London), and it will go down well with an English beer. And if you decide to eat in a typical English pub, the atmosphere that you will enjoy would be worth the trip (especially in the cold winter months).
Mother Mash – 26 Ganton Street – Soho (N.5)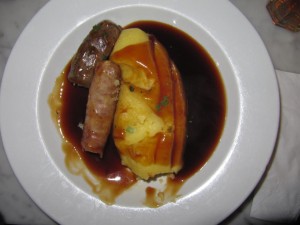 The speciality of the house is mashed potato, served either with sausages (at £8.45) or with pies, those savoury pastries filled with meat (at £9.45). Prices are really good  and usually everyone like Mash and Sausages (otherwise known as banger and mash), even kids. It's definitely one of my favourite places in Soho for good satisfying food.
The Salisbury Pub – 90 St. Martin's Lane – (N.6)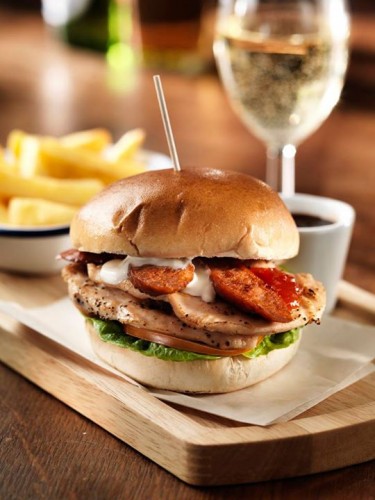 A very nice central pub with an amazing décor, belonging to the Taylor Walker pub chain, quite well know for its price/quality ratio. You will find the usual suspects: Mash & sausages, Pies, Fish & Chips, but prices are reasonable and the environment is quite nice too. It is not easy to find central pubs with very good reviews for food and service, but this makes an exception. A dinner for two is around £30, if you take a main course and a pint of beer.
Alternatives:
Battersea Pie (N.7): in spite of its name, it's not in Battersea, but in Covent Garden, at the lower ground floor of the main building; if you like the idea of eating English pies, this is their specialità. If you find yourselves near Covent Garden, it could be a good choice instead of going to Mother Mash, which is a bit far from here.
Any other pub in the area, such as the Cross Keys (N.8) in Endell St., for a quick lunch break or for a more serious affair, such as the Sunday Roast dinner (served between 12 and 3 PM).
Oriental Restaurants
Ten Ten Tei (Giapponese) – 56 Brewer Street – Soho (N.9)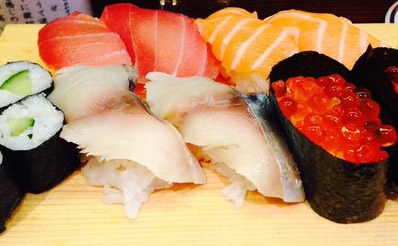 I never saw so many positive comments for a restaurants. Although I am not a great fan of Japanese cuisine, those in the know have widely praised this establishment. It's quite closed to Piccadilly Circus. I haven't tried it, yet, but I'm really tempted. What about you?
Dishoom (Indian) – 12 Upper St. Martin's Lane – (N.10)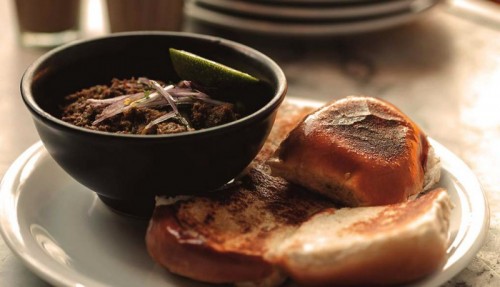 There are several Indian restaurants in central London, but this is one of those which received the highest number of positive reviews. The choice is enormous, and many dishes are under £8. They also have a branch in Shoreditch, to demonstrate how trendy Dishoom is.
Alternatives:
Thai: Thai West Cafè (N.11) – 87 Brewer St – it's mainly a take away, but one can also eat in. It's a an institution in Soho, for its low prices and good quality. Cash only.
Unfortunately I could not name any Chinese restaurants: there are so many, that choosing the best one would be hard; also, they never quite receive top marks, either for service (too rushed)  or for food quality. The good ones are too expensive for our list.
Mediterranean Restaurants.
Koshari Street – 56 St. Martin's Lane – (N.12)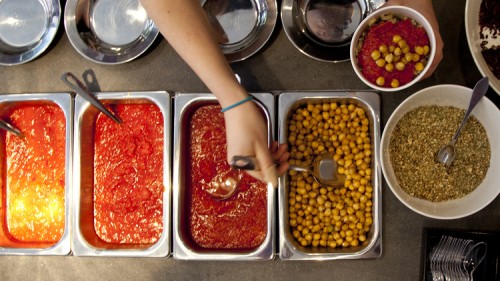 A perfect choice for vegetarians, for health conscious people, or simply for those who want to try something new. Koshari is an Egyptian recipe based on rice or pasta and lentils; it's a cheap healthy vegetarian meal. Prices are very good (one portion costs between £5 and £7) and so is the quality. It's a takeaway that you must try.
Mediterranean Cafè – 18 Berwick St – Soho (N.13)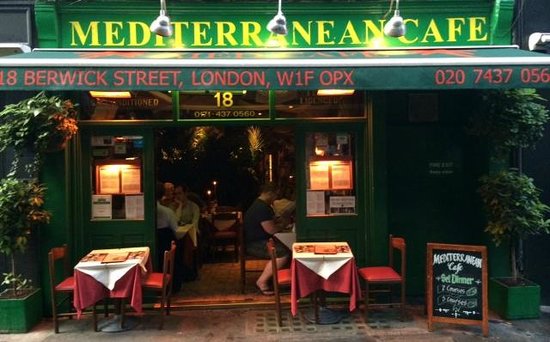 They offer a mix of Mediterranean cuisine, Greek and Lebanese in particular. The lunch set-menu at £8.95 (2-course meal) is quite a good deal. In the evening is £15.95, though. The à la carte menu is also quite expensive, but the restaurants has received very good reviews.
International Restaurants.
Cafe in the Crypt – St. Martin's in the Fields – Trafalgar Square (N.14)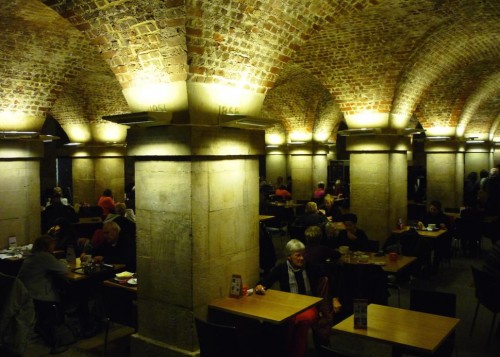 An unusual and inexpensive solution: eating in this self-service restaurant, right in the centre of London, located in the crypt of St. Martin's in the Fields – Trafalgar Square. The entrance is through the glass dome which you find beside the church. Food is good, prices are excellent, and the location is absolutely original, with the vaulted ceiling and the old stone floor. Watch out the opening time: on Sunday it closes at 6pm.
Alternatives:
Honest Burgers (N.16) (4 Meards St) – there are several branches around town of this recently created restaurant chain, which offers classic burgers and chips of a superior quality than the usual suspects, at £8/9.
Ed's Diner (N.17) (Old Compton St) – another America inspired chain restaurant which is rather affordable. Ideal if you love those diners in the style of the 50's, like the famous Arnold's in Happy Days. 
I hope I have given you enough suggestions to find good and cheap restaurants in central London. Do you have other suggestions? Is there a favourite place of yours you want to recommend? Don't forget to leave your comments!