If you are in town for New Year's Eve, check out the best parties to start the New Year with a bang.
Have you decided what to do for New Year's Eve (or NYE 2015, as everybody seems to call it now)?
Not yet? Well, it's really time to start thinking about it, especially if you don't want to miss one of the big parties which will take place in town. Everyone is claiming to be the best, the biggest or the loudest. None of them is really cheap by now, early birds tickets being all sold out.
All tastes will be very well catered for: party lovers, funky types, rockers and more. There are many large garage, bass, house, hip hop themed party in London, and it's not surprising, giving the number of garage, bass, house and hip hop venues you can find here. Obviously your first points of call for this is Shoreditch and East London.
If you feel you belong to this category, or just want to try one of these parties, here are the top of the list:
Just Juice in the Jungle – at the Queen of Hoxton in Shoreditch.
One popular venue, not just for NYE parties, but also in summer for its roof top, often used as open air cinema. NYE 2015 will be celebrated in the basement, purposely decorated as a rainforest jungle – as you can imagine from its name.
Tickets on sale here at £20 + booking fees. Party starts at 8pm and goes on until 3am.
Line up includes:
Applebottom
Plastician
Twisted Hearts
Wild Life (resident DJs)
Love Rave NYE at the Coronet Theatre, Elephant & Castle.
This should be a really massive event, with 5 Arenas of Old Skool, Drum & Bass, UK Garage, Jungle, House and Club Classics. The list of DJs is so long that it's difficult to think how can they all perform in just one night. But don't forget that the party goes on until 6 am, so there is plenty of time to enjoy them all, if you wish.
Last entry is at 2am, but you don't want to miss the countdown to midnight, do you?
Tickets are on sale now at £30, for simple entry, or £120 for groups of 5 people (strictly arriving together). You can  buy the tickets here.
Alternatively you can choose this Ibiza inspired party in Kings Cross:
NYE 2015/16 Egg London
Reading directly from the presentation of the event, we can see that Egg London, have finely tuned this year's line up with a combination of powerhouse DJs and hot newcomers ensuring that their party is one of the more explosive NYE events across the capital, chock a block with Exclusive mixes and remixes, counting down to midnight against the hugely new bold 'Pop Art' diorama across the club.
Intrigued? Well, get your ticket here, if you are. They are available now at £25
BANG! BOOOOOOOOM. HUGE! are the comments of some of the party goers who have already bought a ticket for this NYE 2015 event.
These are some of the DJs:
If you are a true classic disco lover, you should check this party in Bethnal Green:
Love come down
at The Archway Gallery, E2 9HA, Cambridge Heath.
Donna Summer, DeLa Soul, Michael Jackson and – obviuosly – the Bee Gees. If you are into glittering disco music, this is the party for you. It starts at 9pm and it goes on until 4am. Plenty of time to enjoy a night of classic disco. Tickets are now on sale at £20 and can be bought here.
Talking about good old times, in London there is always something going on about the 80's and the 90's, and these classic party times cannot be forgotten at NYE.
I love the 80's vs. I love the 90's.
at the Dome, Tufnell Park, NW5 1HL
Here is the description of the event: best way to celebrate New Years Eve is with the ultimate retro party playing non stop 80s and 90s smash hits and party anthems so get dressed up Walk this Way , Get into the Groove and get ready to Jump Around to all your favourite party anthems from Whitney to Britney, Hip Hop to Britpop, MJ to Green Day to the Y.M.C.A and everything in-between at an amazing venue. It sounds good, doesn't it?
Tickets at £11 are a real bargain, and can be bought on ticketweb
From 10pm to 4am.
If you want something a bit more rock than pop, you'd better head to Camden Town:

Camden Rock The Underworld
The DJ Frank Turner will fire up your rock night with: Arctic Monkeys, Blink-182, Foo Fighters, Green Day, The Libertines, Muse, The White Stripes, AC/DC, Queens of the Stone Age, Rage Against The Machine, PIXIES, Oasis, The Killers, Biffy Clyro, The Strokes, System of a Down, Nirvana, Blur, The Prodigy, The Black Keys, Kasabian, Weezer, Radiohead, Sum 41, The Clash, Kings Of Leon, Linkin Park, Catfish and the Bottlemen, Queen, Metallica, MGMT, The Strokes, Beastie Boys & more.
What do you think?
Tickets on sale at £20 and available here.
But if you think that disco, pop or rock is not your cup of tea (or your flute of champagne, considering the time of the year), you can always choose a themed party. I have two options for you: Scottish styled celebration near Piccadilly or a Brasilian Carnival in Notting Hill. Both sounds pretty good, but the choice is all yours!
And remember that the Tube will run all night and public transport will be free from 23:45 until 4:30 in the morning.
All these events are for over 18 and IDs are essential if you want to get in.
And if nothing really inspires you, London can be your venue! Find a nice spot and enjoy the Fireworks. Tickets are now sold out, but there is always a way to watch them, even from the distance. It will be an unforgettable night!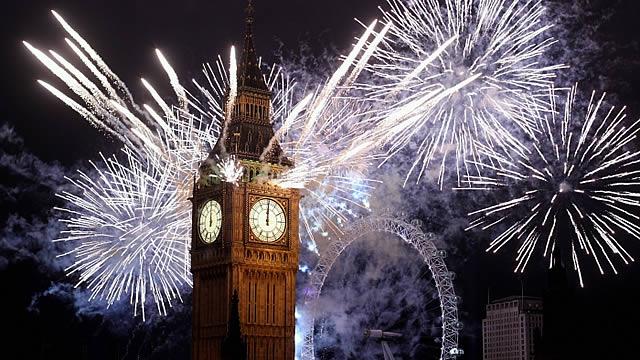 And if you have any suggestion, leave your comments!